Herbert was born 1885 in Swillington
His  father was Thomas and mother Sarah.
He enlisted 15th April 1916 in  Royal Regiment of Artillery and was posted to Great Yarmouth. He was 31 years and seven months old, working as a carpenter and living at 11 Hilderthorpe Terrace, Garforth; he was unmarried.
He served in 90th Battalion Royal Garrison Artillery
Herbert died on 21st March 1918
Burial:
Red Cross Corner Cemetery Beugny
Beugny
Departement du Pas-de-Calais
Nord-Pas-de-Calais, France
Plot: I. K. 6.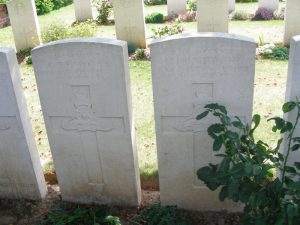 Herbert Freshwater Certificate
Father – Thomas F. Born 1832 in Haverstock Essex in 1881 Thomas was Head Gardener at Swillington House for Baronet Charles Hugh Lowther
Mother – Sarah F. Born 1847? in Islington, London
Brother – Arthur F. Born 1865 in Swillington
Brother – Edward F. Born 1866 in Swillington
Brother – Thomas F. Born 1867 in Swillington
Brother -Alfred F. Born 1869 in Swillington
Brother – George F. Born 1870in Swillington
Brother – James F. Born 1874 in Swillington
Sisiter – Mary F. Born 1876 in Swillington
Sister – Clara E. F. Born 1879 in Swillington
Sister – Emily F. Born 1880 in Swillimgton
Herbert F. Born 1885 in Swillington