Most of the information on Nathan has been provided by his nephew Doug Laycock and Dr J.N.D Laycock, Doug's son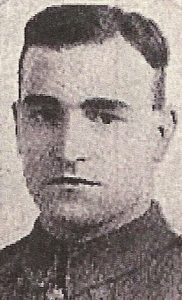 Nathan was born 16th November 1893 and Baptised 4th February 1894
In 1915 he Enlisted in Leeds in No3 Coy 2nd Battalion Coldstream Guards.
Officially Died 14th September 1916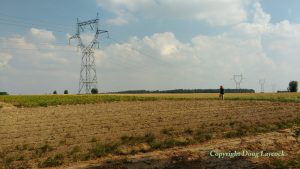 Photo of Ginchy , the area where he was killed
Photo taken by Doug Laycock and son on 17th August 2016
Investigations by Nathan's Nephew, Doug Laycock, showed he fought in the Battle of Fluers-Courcelete and was killed around 6:30-7:30 on the morning of the 15th September 1916, in the heat of the battle written records may have got somewhat mixed so the person recording the deaths through the night of the 14th continued and included the deaths of early morning of the 15th.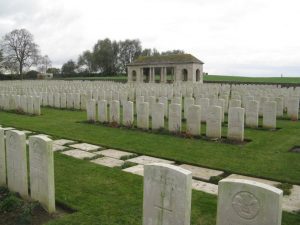 Guards' Cemetery Lesboeufs
Lesboeufs
Departement de la Somme
Picardie, France
Plot: XIII. L. 4.
Photo taken by Doug Laycock and son on 17th August 2016 (Copyright Doug Laycock)
Nathan Douglas Teale Certificate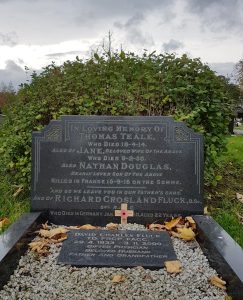 Commemorated in Garforth Cemetery along with his parents
Click this link for a detailed background of Nathan complied by Doug Laycock and his son Dr JND Laycock
Summary Family History
Father – Thomas T. (b. 1859 in Garforth) Occupation in 1911 Colliery Engine Winding Man Isabella Pit -Died 18th April 1914
Mother – Jane T.nee Dixon (b. 1862 in Garforth). Died 9th February 1930
Married 1883 and had 13 children 12 of whom survived as per 1911 census
Sister – Hannah T. (b. 1884 in Garforth) Married Percy Wriglesworth (Landlord of the Gascoigne) died 1944
Brother – Thomas Henry (b. 1887 in Garforth) died 1954
Brother – John Richard T. (b. 1888 in Garforth) Occupation in 1911 Colliery Fitter
Brother – Wilfred Dixon T (b. 1889) Engineer
Sister – Lucy T. (b. 1892 in Garforth) died 1975
Nathan Douglas T. (b. 1893 in Garforth). In 1911 he left Leeds Boys Modern to train as a Teacher and in 1912 he went to Leeds City. In July 1914 he was appointed Assistant Headmaster of St Hilda's School in Cross Green.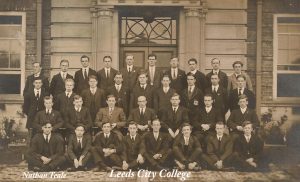 Brother – David Clifford T. (b.1896 in Garforth) Occupation in 1911 Apprentice Blacksmith
Brother – Robert Garnet T (b. 1898 in Garforth) Died 1953 Colliery Engineer
Brother – Gilbert Baden T. (b. 1900 in Garforth) Died 1968
Brother – Sidney Cecil T. (b. 1902 in Garforth) Died 1971
Sister – Lilian T. (b. 1903 in Garforth) married as Laycock 18th February 1934 Died 1978
Sister Dorothy Elizabeth T. (b. 1905 in Garforth) Died 1981
Sister – Kate T (b.1907 died 1908) Buried in Garforth Church Yard
1911 living in 4 room dwelling 68 Sturton Lane East Garforth. In 1901 Its called 68 Paradise
Nathan was the cousin of Richard Thomas Lambert Teale. and Robert Clarke Dixon. Richard's father, John was brother of Nathan's father Thomas.and Nathan's mother Jane Dixon was sister of Alfred Dixon, Roberts C. Dixon's father.
John and Thomas's parents were Thomas T (b. 1823 in Garforth) and Mary Anne T. nee Biscombe (b. 1821 in Kippax) They were grandparents of Richard and Nathan