Percy was born in 1893 in Swillington.
The 1911 census shows him living at 2 Strawberry Avenue in Garforth. He was 18 years old and a Coal Miner below ground. His father Edward (63) was a grocer and his mother Clara (56) worked in the business.Also living there were brothers Walter (21) Coal Miner Hewer, Harold Victor (13) Colliery Labourer above ground and sister Elsie Catherine (15) a Domestic working at home.He also had an elder sister Ethel (22) who, in 1911, was living at 23 Strawberry Avenue with husband George Goodall who she had married in 1906.
Their mother Clara (b.1850) was Edward's second wife, his first having been Ann Elizabeth who died in 1886.They had four children, Mary (b.1872) Charlotte Eleanor (b.1873) Clara (b.1879) Ernest(b.1880)
Charlotte had a child, Sidney Levitt in 1898 but didn't marry until 1900. Her husband was Arthur Barber.
Although Charlotte and Percy had different mothers they were classed as siblings as they had the same father. Percy was Sidney's uncle.
Sidney was tragically killed at the age of 15 in a pit accident at Garforth Colliery on 7th December 1913.
Charlotte died on 7th January 1964 at the age of 91.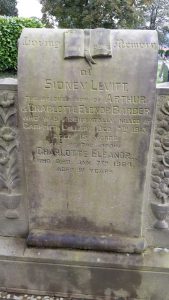 Percy served with 10th Battalion Kings Own Yorkshire Light Infantry in France and Flanders.
On 1st July 1916 the Battle of Albert on the Somme commenced and Percy was Killed in Action on the very first day of the battle. He was 23 years old and his address at that time was 18 Lyndon Avenue, Garforth.
He is remembered at:-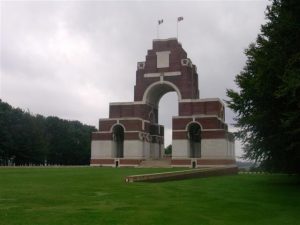 The Thiepval Memorial Thiepval, Departement de la Somme, Picardie Plot Pier and Face 11C and 12A
Casualties on 1st July 1916 at the Battle for Albert on the Somme.
Officers killed 993
Other Ranks killed 18,247
Total Killed 19,240
Total Casualties (killed. wounded, missing 57,472
Below are the Commemorative Stones in Garforth Cemetery of Percy and his family .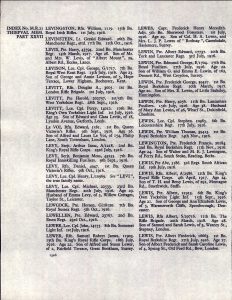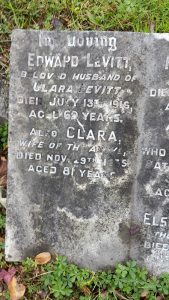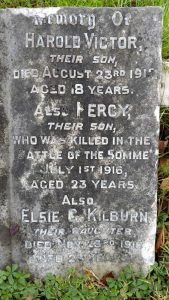 As well as Percy, Elsie and Harold Victor also died young at the ages of 23 and 18