Roland was baptised on 17th July 1890 in Woodlesford,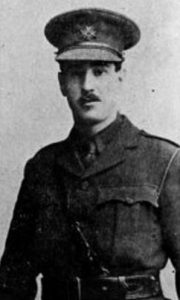 His parents were William Thomas a farmer, and Emma.
He had two brothers William Wyrill b 1887 and George Reginald b 30th May 1893 – baptised 22nd June 1893 in Swillington.
In 1901 10 year old Roland was boarding at East Retford Grammar School.
Twenty year old Roland in 1911 was a dental student and his brother William W. was an Assistant Valuer for Inland Revenue, both living at Waterloo Manor with widowed mother Emma and 2 domestic servants. Waterloo Manor is listed as having 13 rooms.
Roland served in France and Flanders with 8th Battalion Prince of Wales Regiment.
He was Killed in Action 2nd June 1916.aged 25. and is buried in :-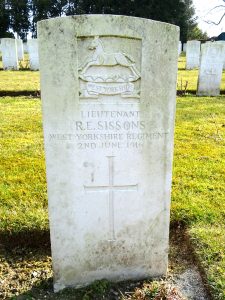 Aveluy Communal Cemetery Extension
Departement de la Somme
Picardie, France
Plot: E. 38.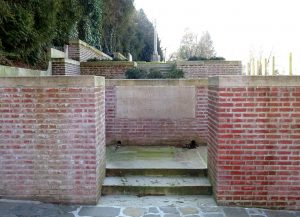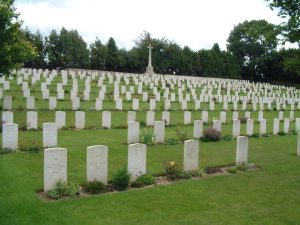 Aveluy Communal Cemetery Extension contains 613 burials and commemorations of the First World War. 26 of the burials are unidentified and three graves, the exact locations of which could not be found, are represented by special memorials. The extension was designed by Sir Reginald Blomfield.
Roland Edward Sissons Certificate
Transcription of YEP Article
Yorkshire Evening Post Wednesday, June 7, 1916
One of West Yorkshire Territorial regiments at the front has lost another gallant officer in Lieut. Roland Edward Sissons was instantaneously killed early on Friday evening last by the bursting of a German shell in the tent in which he was sitting. It is believed one of the rank and file was killed at the same time.
Lieut. Sissons was the second son of the Late Mr W.T. Sissons of Little Preston Hall, Woodlesford, and of Mrs Sissons, now of Waterloo Manor Garforth. As he was widely known, the news of his death will touch a wide circle of friends.
In a letter to Mrs. Sissons, aquainting her with the sad news, the young lieutenant's commanding officer wrote,
"I am extremely sorry that it is my painful duty to tell you that your son Roland was killed during the early hours of this (Friday) morning, by the bursting of a shell in his tent. He was killed quite suddenly and died a painless death doing his duty like the brave lad he was.
All his brother officers and I assure you of our sympathy and join with you in mourning the loss of one who was dear to us all and who had proved a most efficient and courageous officer"
Lieutenant Sissons- by a sad coincidence he was gazetted to a full lieutenancy on the very day he was killed- was nearly 26 years of age. Educated at Retford Grammar School, he subsequently became a student at Leeds Medical School, intending to qualify as a dental surgeon.