Herbert was born 28th May 1898,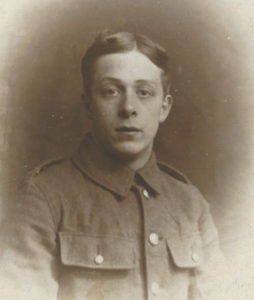 Baptised 26th June 1898, son of George and Elizabeth of 35 Gascoigne Row, Garforth . They had 12 children, 8 of whom survived.
He enlisted originally in the King's Own Yorkshire Light Infantry then transfered to 7th Battalion Leicester Regiment
Served in France and Flanders and was Killed in Action  at the Battle of Bazentin Ridge (Somme)14th July 1916 aged 18. His body was never recovered
Commemorated at Thiepval Memorial
Departement de la Somme
Picardie, France
Plot: Pier and Face 2 C and 3 A. Commonwealth Grave Thiepval Memorial
Herbert Emerson Dickinson Certificate
Family Details
Father – George D. Born 1861 in Garforth
Mother – Elizabeth D.Born 1862 in Garforth Elizabeth nee Cockram Her Father was Thomas
Married 1879
Brother – William D. Born 1882 in Garforth
Brother – Sydney D. Born 1884 in Garforth killed in the Sisters Pit aged 15! When a coal Face collapsed. Buried in St Mary's but headstone no longer visible
Brother – George D. Born 1889 in Garforth left Garforth Colliery School aged 10 to work as a "Shover up " at the pit bottom
Brother – Albert D. Born 1893 in Garforth
Brother – Maurice Henry D. Born 1896 in Garforth
Herbert Emerson D. Born 1898 in Garforth
Brother – Alfred Born 1900 in Garforth became a butcher
1901 Family living at Moor Garforth Briggate Father was a Colliery Deputy Underground, Brother William was a Clerk in the Colliery Weighouse
Brother – Norman D. Born 1903 in Garforth
Brother – Arthur D. Born 1908 in Garforth
In 1911 Family living at 35 Gascoigne Row, Garforth. Father still working as a Colliery Deputy. Brother Albert was a Banksman at Pit bottom
The Dickinsons all came from Garforth (Brierlands?) as did the Cockerhams (Firth Fields) on Emerson's mother's side.  They moved to 35 Gascoigne Row from The Moor around 1887. The terraced rows were on Main Street,  demolished in the 1960s to make way for the shops on the left hand side looking towards Church Lane. The property stayed in the family until around the 1950s. Descendant's great grandma, Mabel, and her husband, George Jr (1887-1952) lived there until he died.
Grateful thanks to a descendant of Herbert who provided background information