Ernest was born in Hempnall, Norfolk and was Baptised on 4th Dec 1897.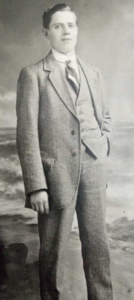 His father William (b. 1863) was a joiner.
By 1901 the family had moved to Town Street, Barwick where his father worked as a joiner at the colliery. His mother was Emma (b. 1871). At this time he had 4 brothers, Sidney (b. 1893), Reginald (b. 1894), William (b. 1895) Albert (b. 1898) and all of them were born in Norfolk. A sister, Bertha was born in Barwick in 1900. (Reginald is on the Scouts Photo taken in 1908)
In the 1911 Census they are shown as living at 6 Strawberry Terrace in Garforth. Ernest and his three elder brothers all worked at the colliery.
There was now another sister Ethel born 1902 and brother Wallace born 1907.
Ernest married 21 year old Nellie Gibbon on 13th April 1918 and lived at Poplar House, Church Lane, Garforth. Nellie's father was Charles William Gibbon a plate layer. In 1939 she was living as a widow at 21 Kendall Terrace, Little Woodhouse in Leeds. Nellie died Q4 1960 aged 64
Ernest served with 5th Battalion, Kings Own Yorkshire Light infantry.
He died in a hospital in England on 6th December 1918 aged 22 and just 8 months after he was married.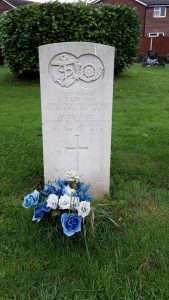 Ernest's Grave in Garforth Cemetery. Plot D443
This grave is shared with Kenneth Lincoln who was killed in WW2
Kenneth was Nellie's son but Ernest wasn't his father