George was born in 1891 in Swillington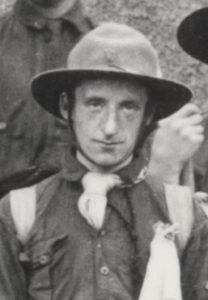 Photo Taken 1908 in Scout Group
In 1911 he was living at 86 School Terrace East Garforth with father Christopher and mother Charlotte Mary. Christopher and Charlotte had been married for 29 years in 1911 and had had 11 children, eight of whom were still alive. Freda Cox 2 who was Christopher's grand daughter was also living at School Terrace. George was a colliery pony driver and his father a coal miner hewer.
George had enlisted in the Territorial Army at Carlton Barracks on 27th August 1909 aged 18.
He served in France and Flanders with 1st/8th Battalion West Yorkshire Regiment and was killed in action 0n 28th September 1916 aged 25. In the Commonwealth Graves Record he is listed as a Corporal. When the telegram arrived notifying George's death it was received by 7 year old Freda who had to hand it to Charlotte.
Commonwealth Graves Thiepval Memorial
He is commemorated at the Thiepval Memorial
Thiepval, Departement de la Somme, Picardie, France
Plot: Pier and Face 2 A 2 C and 2 D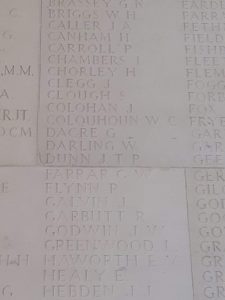 Image provided by Michael and Tracy Wain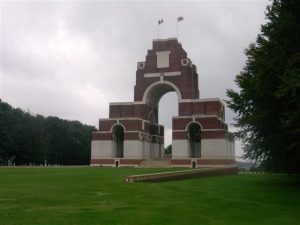 Thiepval is, the Memorial to the Missing of the Somme, and has the names of more than 72,000 officers and men of the United Kingdom and South African forces who died in the Somme sector before 20 March 1918 and have no known grave. Over 90% of those commemorated died between July and November 1916.
Family Details
Father – Christopher D.(bapt 26th March 1854 in Seacroft) Married Charlotte Q 3 1881 Christopher's father was Matthias D. a labourer and his mother was Anne D.
Mother – Charlotte Mary D. nee Taylor ( Baptised in St Saviour's) Church, Leeds on 19th August 1861) Her Father was George Taylor, a bricklayer of Richmond Street. Her mother was Jane. Charlotte Died Q1 1945 at 84 years old.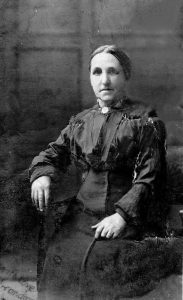 Sister – Sarah A.D. (b 1883 in Seacroft)
Sister – Minnie D. (b 1885 in Seacroft)
Sister – Hannah D. (b 1887 in Allerton Bywater)
Brother – William D. (b 1889 in Allerton Bywater)
In 1891 Family living on Providence Place, Selby Road,Swillington
George Dacre (b 1891 in Swillington)
Sister – Agnes D.(b 1893 in Garforth)
Brother -Ernest D. (b. Q3 1895 Died Q2 1896)
Brother – Herbert D. (b. Q3 1897 Died Q3 1898)
Sister – Gladys D. (b 1900 in Garforth)
Sister – Nora D.(b 1904 in Garforth)
East Garforth Football Club 1912- 1913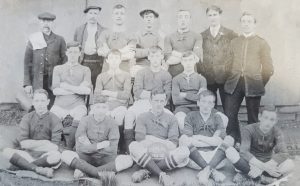 21 year old George is front row second from right