Leonard was born on 25th December 1892 and baptised on 12th March 1893 in Leeds Parish Church. At that time they lived at Clapham Terrace, Wellington Road.He was the eldest son of Arthur and Violetta – they were married in 1893.The 1911 Census shows they had been married 18 years.
He was a driver in Kings Own Yorkshire Light Infantry
Leonard was Killed In Action 1st October 1917 aged 24
Army death record shows "C" Battery 245th Brigade Royal Field Artillery
Commonwealth Graves Ypres Reservoir Cemetery Ypres (Ieper) Arrondissement Ieper
West Flanders (West-Vlaanderen), Belgium
Plot: I. C. 30.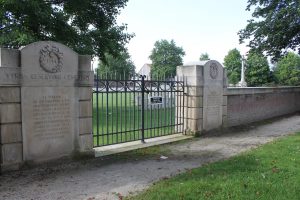 Family Details
Father – Arthur H. (b.1871 in Wyke)
Mother – Violetta H. (b.1872 in Holbeck )
Leonard Holden (b 25th December 1892 in Wortley)
Brother – Edwin H. ( b. 1895 in Wortley)
Sister – Olive Rebbeca H. (b. 1900 in Garforth)
In 1901 the family lived at 136 Brierlands in Garforth.
Sister – Mary Alice H. (b. 1902 in Garforth)
Sister – Doris H.(b. 1904 in Garforth)
Sister – Elizabeth H. (b. 1905 in Garforth)
Sister – Sarah Ann H. (b. 1907 in Garforth)
Sister – Violetta H. (b. 1909 in Garforth
Brother – Arthur H. (b. 1910 in Garforth)
By 1911 they had 9 children all alive.and were living at 162 Newhold in Garforth. Arthur was a Coal Miner Hewer and Leonard and his brother Edwin were Coal Miner Pony Drivers.
In 1917 at the date of Leonard's death they were living at 22 Beech Grove Avenue in Garforth