Charles was born 28th June 1892
 Baptised 14th August 1892 in Garforth Parish Church
In 1911 the family lived in 4 room dwelling in Hawthorn Cottages, Coupland Road, Garforth
Married to Margaret Annie nee Idle,12th Oct 1915, she was born on 2nd December 1890 and baptised on 25th Jan 1891. She died on 22nd February 1978.
They had son , Charles Clifford Simpson was born 10th Dec 1916 who died 7th June 1995
Charles enlisted 20th June 1917 in Longmoor into Railway Troops Depot, Royal Engineers he was 23 years and 5 months old. and 5ft 6ins tall. His address at this time was Methley House, Garforth.
Died of pneumonia 15th February 1919 aged 27
Buried in Garforth Cemetery Section D Plot 42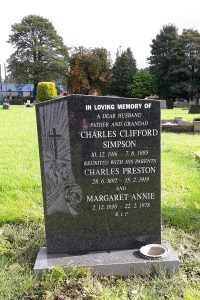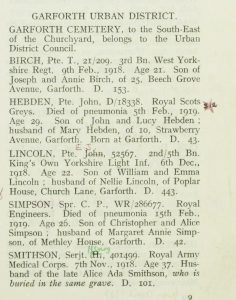 Charles Preston Simpson Certificate
Family Details
Father – Christopher S. (b 1868 in Garforth) Occupation in 1911 Coal miner hewer
Mother – Alice S. (b 1866 in Aberford)
Brother – William S. (b 1892 in Garforth) occupation in 1911 Assistant Railway Signalman
Charles Preston Simpson (b 1892 in Garforth) Occupation in 1911 Railway Clerk
Sister – Dorothy S. ( b. 1897 in Garforth)
Brother – Alfred S. ( 1898 in Garforth)
Brother – Roland S. (b. 1899 in Garforth)
Sister – Alice Lillian S. (b. 1901 in Garforth)