James was born in 1882
He married Eveline Barber in 1908. Eveline was born 1887 in Thornhill Edge. They had two sons
Son – Harry B. (b 1908 in Dewsbury)
Son – Willie B (b.1909 in Garforth)
In 1911 they were living in Lidgett Cottages, Garforth where James was 29 years old and working as Labourer in a Lime Quarry.
He enlisted in 7th Battalion Kings Own Yorkshire Light Infantry.
James died of his wounds on 24th September 1916.
Burial:
Grove Town Cemetery, Meaulte
Meaulte
Departement de la Somme
Picardie, France
Plot: I. H. 46.
Commonwealth Graves Grove Town Cemetery, Meaulte
Family Details
Father – Matthew B. (b. 1839 in Garforth) In 1901 he was living in Barley Hill with his 18 year old son Henry and was a Market Gardener.
Mother – Sarah B. (b. 1855 in York) Former Married name Barber nee Key Matthew B was her second Husband. In 1901 she was shown as a house keeper for George Beevors a farmer living at the Farm House, Church House.
Brother – Henry B ( b. 1883 in Garforth) in 1901 he was living with father Matthew in Barley Hill.
Brother – William B. (b. 1886 in Garforth) in 1901 living as a servant with Mother Sarah and James at George Beevor's Farm, Church House.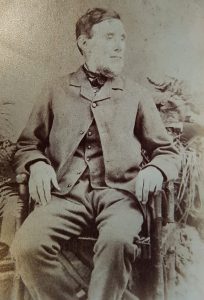 Sarah married first Husband Amos in 1872.They had four children.
Daughter – Ruth Born 1872
Son – James Born 1875
Daughter – Emma Born 1876
Son – Fred Born 1878
Amos died 1879 aged 30