Leonard was born 12th July  1867 in Kippax
His Father was Charles Townend(1842-1870 and Mother Elizabeth Campbell (1848 -1926)
Father, Charles died aged 28 and his mother remarried Christopher Ashton in 1872
Leonard married Louisa Dickinson(B.24th Nov 1872 Crossgates – D.7th Feb.1908) in Swillington on 28th January 1895. They had a son Arthur Reginald in 1908 and the family moved to Garforth. On the Marriage record he is listed as Charles Leonard Townend
Louisa passed away aged 36 and Leonard remarried Eliza Saddington, a 40 year old widow 17th October 1908 in Dewsbury. The family continued to live in Springfield Place, West Garforth. At this time he was a miner.
Arthur Reginald was close to his father as a young boy and took the death of his mother very badly. He was estranged from his stepmother but kept in touch with his stepbrother Albert Saddington and his family. Reg had a daughter Margaret who emigrated to Freemantle, Australia in 1950 aged 16 and who provided this background information.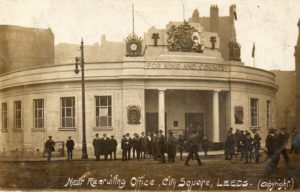 Leonard enlisted in the Royal Field Artillery on 20th October 1915 in Leeds.. He declared his age as 35 and 2 months. His actual age was 48 .
In October 1915 he was posted to No 1 Royal Field Artillery, Newcastle Depot, Then in Nov 1915 to the 2nd Reserve Battalion.
On 10th April 1917 he was posted to Havre in France. Then to the lst  Army red (Reserve Camp Corp) from 30th June 1917 to 18th July 1917.
21st Feb 1918 he was posted to 13 Corp School of Sanitation (this was possibly driving field ambulances in France
9th March to 23rd march 1918 he returned  to UK on leave, then returns to France.
14th May 1918 he is admitted to 3 sty hospital with a cyst to his abdomen until 10th July 1918 when he was sent back to the UK and was discharged on 17th February 1919,
He died after discharge on 16th June 1919.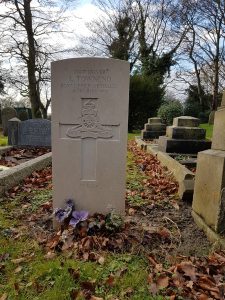 . He is buried in a Commonwealth War Grave in St Mary's Church Grave, (Row 59 Grave 3 North of the Path- Not Garforth Cemetery)
On the St Mary's Parish Burial Record he is listed as 51 years old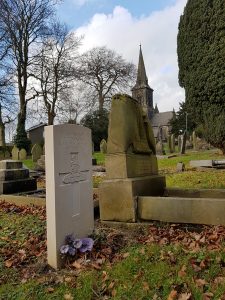 Leonard Townend Certificate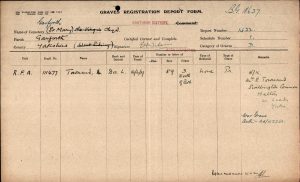 Grateful thanks for the information provided by Martin Ashton,  Ashley Land and Margaret Gill- Granddaughter of Leonard