Harold was born in 1922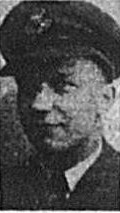 Son of Henry Joseph H. and Amy Healas nee Hewitt 
Harold was the nephew of Lance Corporal Harold Edward Hewitt killed in WW1 who is also on the Roll of Honour
Harold E.Hewitt Healas. Died 12th September 1944 aged 22
Rank – Navigator 35th Sqd Royal Air Force Volunteer Reserve
35th Squadron RAF was one of the five bomber squadrons which formed the Pathfinder Force. The pathfinders were specialist crews, the navigator playing the most significant part, who flew to a target ahead of the main bomber force. The role of the pathfinder was to mark the target with flares and incendiary bombs. The squadron was based at RAF Gravely, 5 miles south of Huntindon, Cambridgeshire. They initially flew Halifax bombers but converted to the Avro Lancaster bomber in March 1944. (Incidentally many Lancaster bombers were constructed at Yeadon).
Burial:
Reichswald Forest War Cemetery Commonwealth Grave
Kleve
Klever Landkreis
Nordrhein-Westfalen, Germany
Plot: Coll. Grave 30. C. 6-8.
These Photos were taken by Mick and Helen Ainsley during a visit in June 2019 The Remberance Cross reads "With Grateful Thanks from the People of Garforth Mick and Helen Ainsley"

Harold's fellow crew members who died when their Lancaster Bomber ND691  TL-M crashed are all buried with him.
This was a night operation taking off from Gravely on 11th Sept 1944
Wanne-Eickel synthetic oil plant. Part of a 412 aircraft attack on three oil plants- Dortmund, Scholven-Buer and Wanne-Eickel. The Dortmund raid was a particularly successful one but smoke screens prevented observation of the other two. 7 losses in all.
Crashed at Gladbeck-Zweckel Germany
F/L Peter Coram Granger No 116087 Pilot Son of Henry Horace and Selina Mary Granger; Husband of Jean Barbara Granger, of Dronfield, Derbyshire
F/O Douglas Arthur Foster No 159149 Wireless Operator
F/O Kenneth Burdett Freer No No153721  Air Bomber
Sgt Harry William Frederick Howe No 1461728 Air Gunner aged 23 – Son of Henry and Alice Rosina Howe of Lewisham and nephew of Mrs E Beavis
Sgt Percy Froud No 1800278 Air Gunner
Sgt Jack Murgatroyd No 1685275 Flight Engineer aged 22 – Son of John and Annie Murgatroyd, of Pontefract, Yorkshire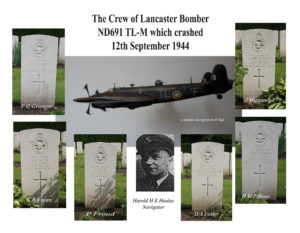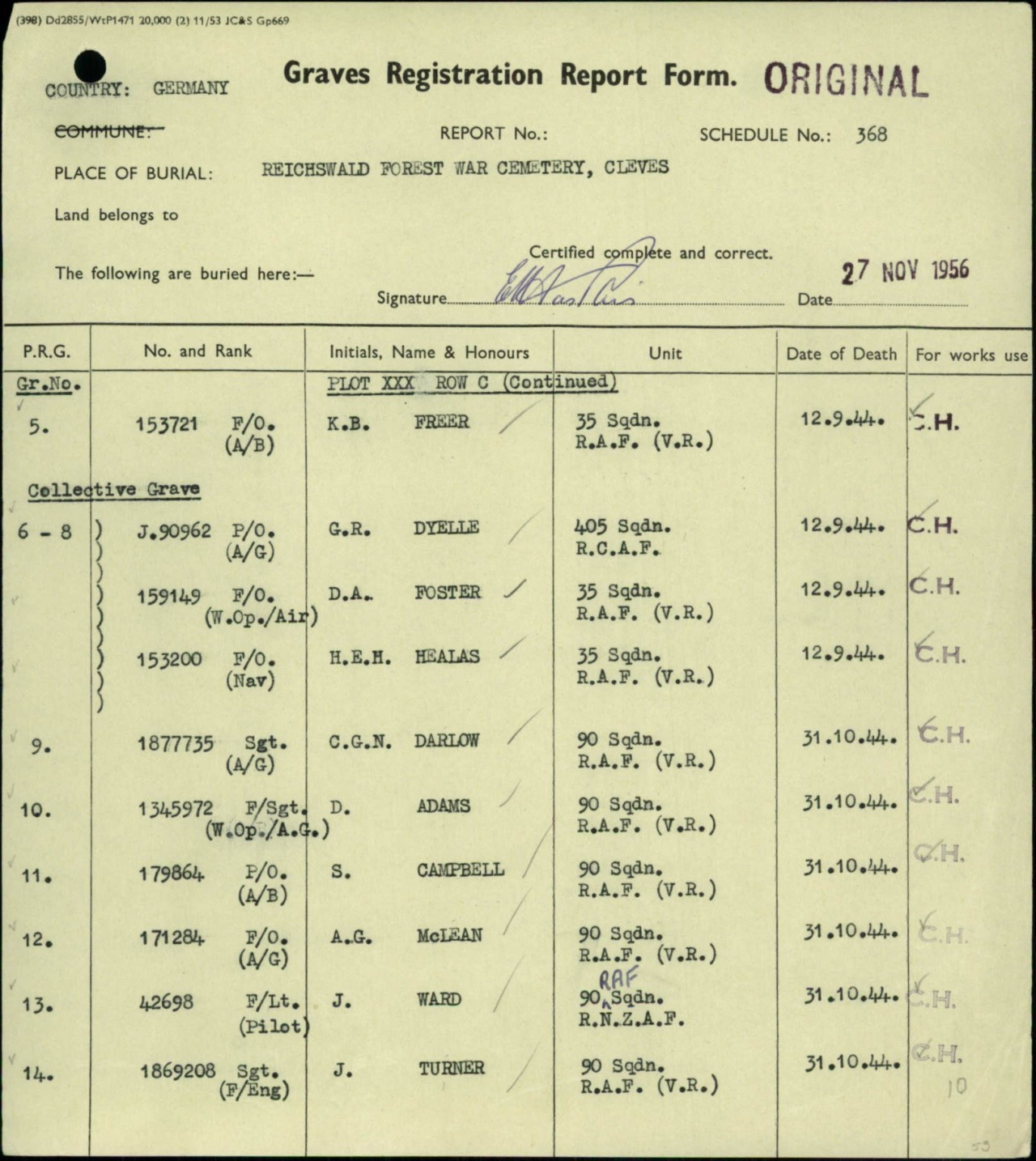 Family Details
Father – Henry Joseph H. (b Q3 1871 in Church Fenton) (d.Q1 1936 aged 64)
Birth Record shows as Harry Joseph Healas – mother's maiden name Ambler
In 1901 Father Henry was an unmarried 28 year old Nursery gardener lodging with the Hart family in Beech Grove Terrace
Mother – Amy Healas nee Hewitt (b.7th November 1883 ) Amy's Mother's maiden Name -Walker
Amy was the sister of Harold Edward Hewitt who was killed in Action in WW1
Married April? 1906 in St Saviour Leeds
Brother – Fredrick Harry H. (b. 9th March 1907 in Garforth) (d Q2 2002)
Brother – John Clarence H. (b 1909 in Garforth)
In 1911 the family lived in a 5 roomed house No 6 Sabian Place Garforth