John was born on 26th February 1890 and baptised on 1st March 1890 in Lofthouse. He was the eldest son of George Priestley B. and Mary Elizabeth B of Manygates Park, Sandal, Wakefield.
Signed on at Colsterdale with 15th Battalion, Prince of Wales Own West Yorkshire Regiment.
15th (Service) Battalion (1st Leeds)
Formed in Leeds in September 1914 by the Lord Mayor and City.
June 1915 : came under orders of 93rd Brigade, 31st Division.
December 1915 : moved to Egypt. Went on to France in March 1916.
7 December 1917 : amalgamated with 17th Bn. to form 15th/17th Bn.
Edwin served in this battalion. He was obviously wounded in France shortly after his arrival. He would have responded to Kitchener's volunteer army recruitment drive
It is highly likely that he was wounded in the first phase of the Somme offensive 1916 – The Battle of Albert – the 31st Division's objective was to assault Serre, a German strongpoint. The battle commenced on 1st July and concluded on the 17th. The 15th (Service) Battalion (1st Leeds) is better known as The Leeds Pals.
The above battle information was kindly provided by Tom Blears- Volunteer Researcher (Military) Lotherton Hall 
John died of his wounds on 8th July 1916 in
The Royal Victoria Hospital in Southampton and is buried in
Netley Military Cemetery, Eastleigh Borough, Hampshire SO31 4TS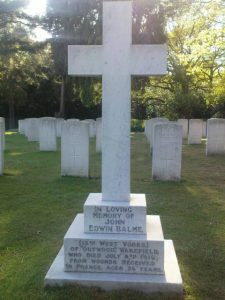 Photo courtesy of Findagrave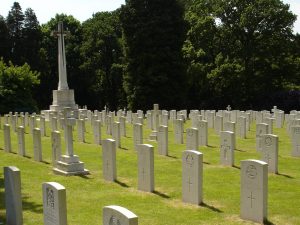 Family Details
Father – George Preistley B. born 1868 in Hammersmith, London
Mother – Mary Elizabeth B. Born 1868 in Dewsbury
John Edwin B. Born 26th February 1890 in Lofthouse
In 1891 the family were living with 60 year old Francis Balme at the Post Office Lofthouse.
Brother – Francis Richard B. Born 1893 in Lofthouse
Sister – Emily May B. Born 1895 in Lofthouse
In 1901 the family were living on Leeds Road, Outwood.
Sister – Francis Elizabeth B. Born 1902 in Lofthouse.
Sister – Marian Eveline B. Born 1907 in Outwood.
Bother – George B. Born 1910 in Outwood
In 1911 father George was a Colliery Agent, brother Francis Richard was an Accountant Articled Clerk and John Edwin was a Colliery Clerk. They were living at Newton Lane, Outwood.