Harry was born in 1893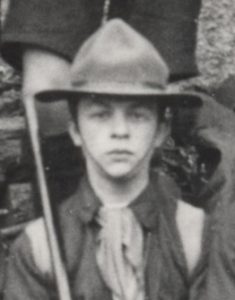 His parents were Henry and Mary Ellen then living at 4 Algeria Street, Holbeck, Leeds
Photo taken 1908 as the first Leader of Garforth Scout Group He was granted his Warrant in 1911
He enlisted in Royal Army Medical Corps 2nd Northern Gen Hospital 33rd Battalion Field Ambulance -Service nos 38 and 156/306282
Served in Egypt
Died of Cardiac Failure in Hospital in Egypt 7th Oct 1915 Aged 22 whilst undergoing  an operation
Commonwealth Graves Alexandria (Chatby) Military Cemetery
Burial:
Alexandria (Chatby) Military Cemetery
Alexandria
Al Iskandariyah, Egypt
Plot: D. 95.
Family Details
Father – Henry F. ( b 1870 in Wakefield) Occupation in 1901 Electrician
Mother – Mary Ellen F. ( b 1867 in Leeds)
Harry Fryer (b 21st February 1893 -Baptised 31st March 1894 in St Lukes Church, Holbeck Leeds
Brother – Sidney (b 1897 in Leeds)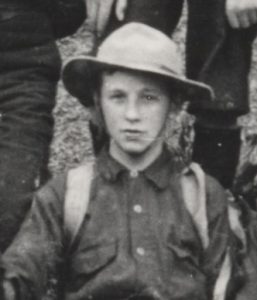 Brother – Leonard F.( b 1900 in Leeds)
Brother – Arthur F. (b 1901 in Garforth)
1901 Family lived in 53 Newhold Garforth This was next door to Joseph Gee
1911 Family Living in four room Dwelling, 53 East Garforth (Newhold)
In 1911 Henry and Mary Ellen had been married 19 years ie 1892 and had 6 children three of whom had died.
Transcription Yorkshire Evening Post 5 November 1915
Private Harry Fryer
Official intimation has been received from the War Office of the death of a Garforth Soldier Private Harry Fryer who died in hospital abroad whilst undergoing an operation.
In civil life he worked in the engineering department at Garforth colliery. He and his younger brother, being experienced in ambulance work volunteered their services at the outbreak of war and for nearly twelve months served in the R.A.M.C. at Beckett's Park Hospital Leeds. Private Harry Fryer only left England for the Dardanelles on September 4. His younger brother had just previously transferred to the Royal Garrison Artillery.