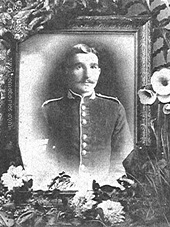 George Johnson (b 1882 in Garforth)
Occupation in 1901 Coal Miner Hewer. On 1st September 1906 he married Beatrice Cotterrell (22) in St Mary's Bryanstan, Marylebone, London. He was a soldier based in Guards Depot, Caterham. Beatrice's father was William, a soldier (deceased). They had two daughters Joan (b 1913) and Phyllis (b 1906)
His parents were James and Sarah Anne.
Picture courtesy of Grandson, Nigel Pollard, son of Joan Pollard (nee Johnson)
He enlisted in 2nd Battalion Scots Guards
George was Killed in Action 6th May 1915 at Festubert
Burial:
Le Touret Memorial
Richebourg-l'Avoue
Departement du Pas-de-Calais
Nord-Pas-de-Calais, France
Plot: Panel 3 and 4.
LE TOURET MEMORIAL
Le Touret Memorial (List of Casualties including George)
His wife, Beatrice was living at 87a Queens Road, Lavender Hill, London.
Family Details
Father – James J. (B 1856 in Tannington Suffolk) Occupation in 1891 Coal Miner In 1911 his Occupation was Colliery Lamp Examiner
Mother – Sarah Ann J.( b 1858 in Garforth)
Married 1877 in 1911 they had had 13 children 6 of whom had died
Sister – Edith J. (b 1887 in Garforth)
Brother – Charles J. (b.1888 in Garforth)
Sister Elizabeth J. (b 1890 in Garforth)
1891 living at Cypress Cottages, Wakefield Road.
Brother – James William J. (b 1893 in Garforth) Occupation in 1911 Colliery Pony Driver
Sister Annie J. (b 1895 in Garforth)
Bother – Phillip J. (b 1899 in Garforth)
Brother – Walter J. (b 1901 in Garforth)
1901 Living at 180 New Hold
1911 The family, not including George, were living in 5 room dwelling at 49 Strawberry Avenue, Garforth. George's parents were still living there in 1915.