David was born in 1894 in Batley. Father Eli, mother Rose Ann
He served with 13th Battalion Yorks and Lancs Regiment
David was Killed in Action on 15th August 1917
Buried in La Targette British Cemetery
Neuville-Saint-Vaast
Departement du Pas-de-Calais
Nord-Pas-de-Calais, France
Plot: II. F. 10.
Commonwealth Graves La Targette British Cemetery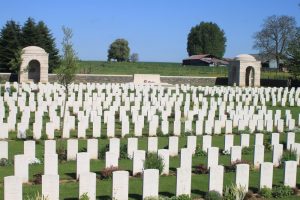 Family Details
Father – Eli Rushton A. Born 1860 in Wakefield occupation Grocer in 1901
Mother – Rose Ann A. Born 1861 in Dewsbury
Sister – Annie A. Born 1880 in Batley
Sister – Lizzie A. Born 1883 in Batley
Brother – Harry R A. Born 1887 in Batley
Brother – Fred A. Born 1901 in Batley
Sister – Alice A.Born 1902 in Batley
Sister – Eva A.Born 1903 in Batley
David R. A.Born 1894 in Batley
Brother – James Rushton A. Born 1896 in Batley
In 1901 Family living at 31 Purlwell Hall Rd. Batley
1911 Another sister Lucy A. had been born in 1902 in Batley
In 1911 Eli had remarried – Second Wife Emily Mary born 1873 in Garforth they had a Son Charles Edward Rushton A. born in 1911
In 1911 they were Living at The Beeches in Garforth- Father was a retired Grocer and David R was a Draper Assistant.