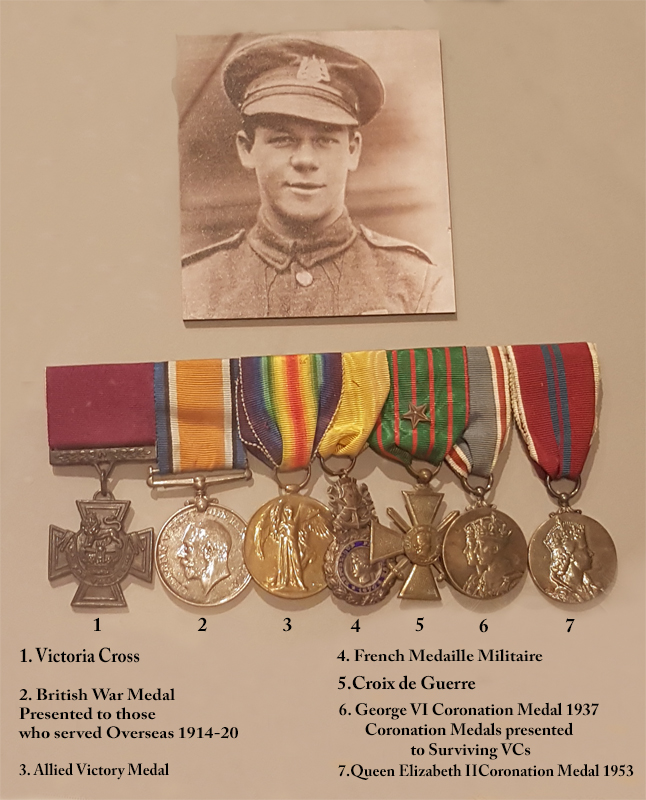 15th/17th West Yorkshire Regiment
Later with Prince of Wales Own Regiment of Yorkshire
On March 26th, 1918, Sergeant Mountain was in command of a rifle squad during the Battle of the Somme, in actions at Hamelincourt, France. When the situation was critical, Sergeant Mountain with a party of 10 men attacked an advance enemy patrol of about 200 strong, killing half of them. He then rallied his men against the main body of the enemy, to cover the retirement of the rest of his company. With only four men he held at bay 600 of the enemy for half an hour. Sergeant Mountain later took command of the flank post of the battalion, holding on for 27 hours until the enemy finally surrounded. For most prestigious award for gallantry in the face of the enemy, he was awarded the Victoria Cross on June 7, 1918.
It was presented on 10th June 1918 by Major T G Gibson in France and 29th June 1918 by King George V at Buckingham Palace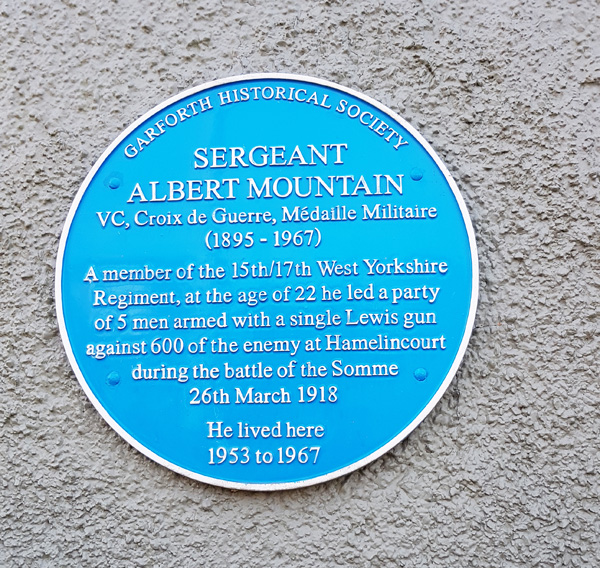 Lieutenant Colonel Paul Simpson, from the Yorkshire Regiment,
Unveiled the plaque – April 2007
The unveiling Ceremony was attended by around 100 people including 20 members of his family and old soldiers proudly wearing their medals.His daughter-in-law, 82 year old Violet Mountain of Yeadon, said "He was extremely modest and never liked to talk about what he did in the war."
From an Article in Yorkshire Evening Post Tuesday 24 April 2007
His medals are in the Prince of Wales Regimental Museum, 3 Tower Street York.
He is named on the Victoria Cross Memorial, Centenary Square, Leeds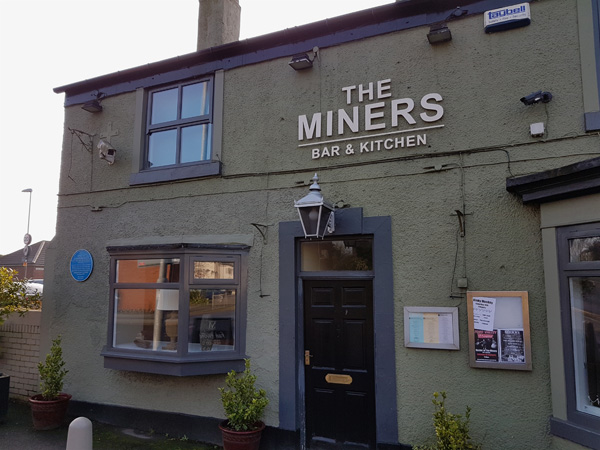 A Commemorative Paving Stone was Unveiled 26th March 2018 marking the centenary of the action for which he was awarded the VC.
Great Grand Daughters Rebecca Palmer and Sarah Mallet unveil the Flagstone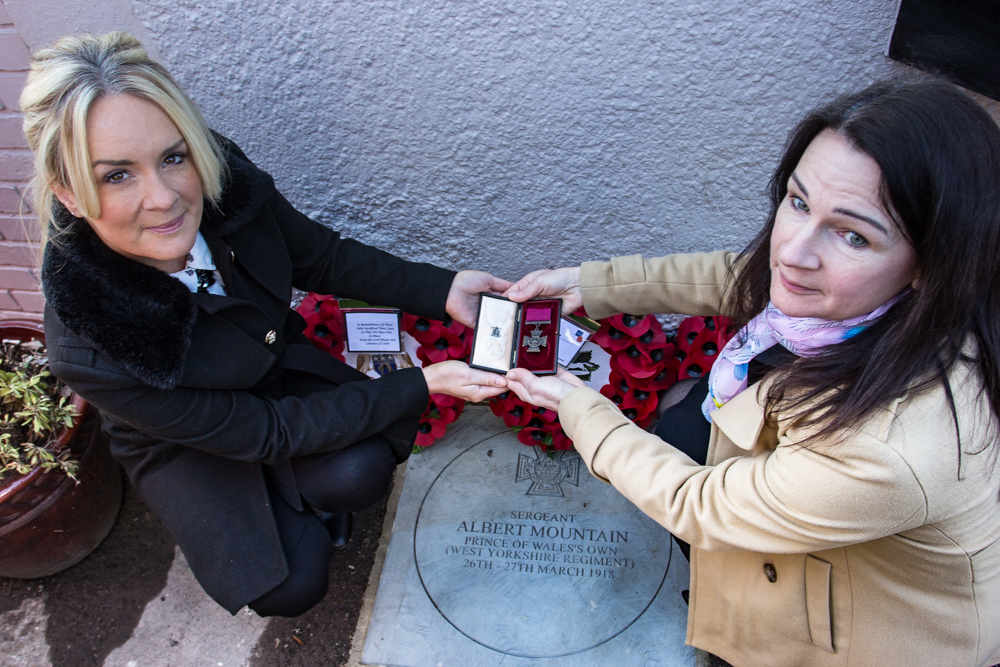 Family Group with Lord Mayor of Leeds Cllr Jane Dowson and Colour Party
FAMILY DETAILS
Albert was born on 19th April 1896 (The plaque at the Miners Arms and several other references state he was born in 1895. His Baptism record  shows 1896) He was Baptised 7th May 1896 in the Wesleyan Chapel in Richmond Hill, Leeds. His address at the time was 151 York Road Leeds
Grandfather – William M. (b. 1834 in Tong) He was a Tobaconist in 1881
Grandmother – Elizabeth (b.1838 in Cleckheaton)
Father – James M (b. 1860 in Farnley Leeds)
Mother – Mary Ann M. nee Swales (b. 1865 in Ripon)1st marriage to John William Cowling
In 1901 Living at Alexandra Hotel, Hurst Street, Ripon where James was the Hotel Keeper
Step Brother – John William Cowling (b. 1890 in Leeds)
Brother – Charles Harold M. (b. 1893 in Leeds)
Sister – Elizabeth M. (b. 1895 in Leeds)
Albert Mountain (b. 1897 in Leeds)
Sister – Lily M. (b. 1899 in Leeds)
Sister -Elsie M. (b. 1901 in Ripon)
In 1911 Living at 34 Sutherland Mount, Hudson Road, Harehills, Leeds
In 1911 14 year old Albert worked in a coal mine as a hurrier . His father James was a widower and working as a Canvasser for Sewing Machines.
Albert Mountain VC married 24 year old Ethel Smith on 27th September 1919 at St Agnes Parish Church. Albert was listed as a miner and his father, James was retired and both were both living at 34 Sutherland Mount. Ethel's father was Tom Smith a Paper Stainer living at 36 Brownhill Avenue. Ethel was born 17th January 1894
In 1939 Albert, Ethel with children daughter and son were living 140 Selby Road. Albert was listed as a commissionaire
Albert was the landlord of the Miners Arms, Aberford Road, Garforth from 1953 until 1967
Albert died on 7th January 1967 aged 71. His ashes are in Lawnswood Cemetery, Otley Road, Adel, Leeds – location New Adel Lane Avenue, Path K2 -380
His medals are in the Prince of Wales Regimental Museum, 3 Tower Street York.
Ref Victoria Cross Online – Albert Mountain
Ref Memorials To Valour – Albert Mountain VC