AIR CHIEF MARSHAL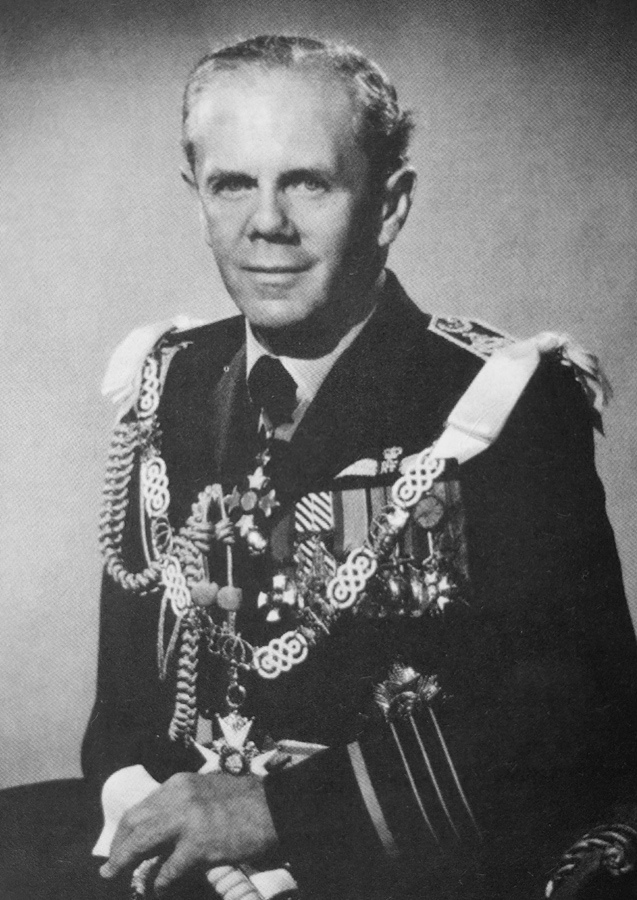 SIR AUGUSTUS WALKER
GCB CBE DSO DFC AFC MA
Legion d' Honneur, Croix de Guerre
1912 – 1986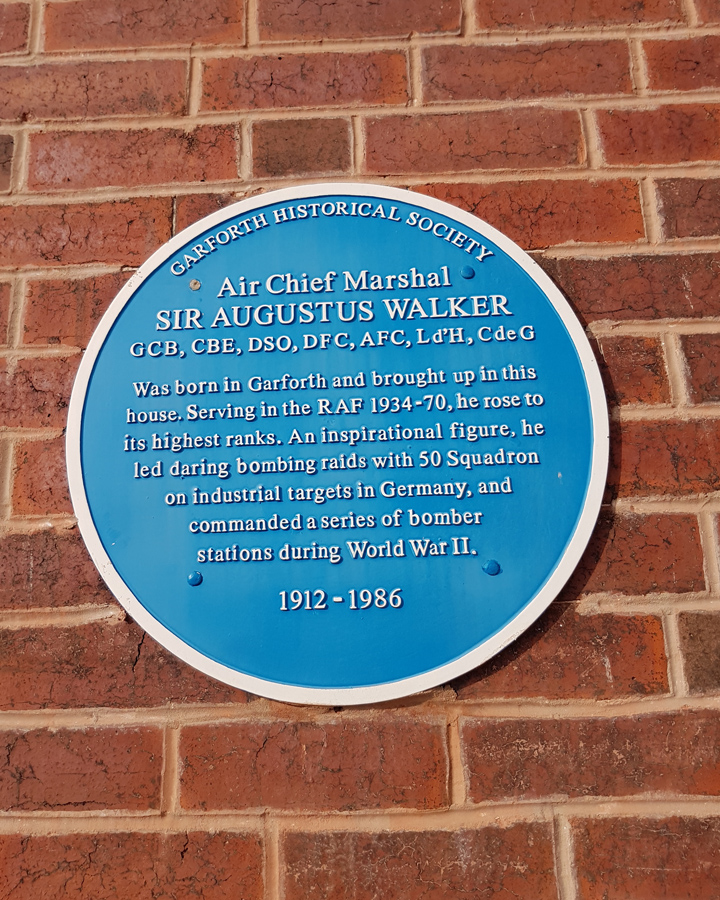 This plaque, on the wall at "Claremont"on Lidgett Lane, gives only a hint of the achievements of this remarkable man who excelled academically gaining an Honours Science Degree, playing rugby for England and attaining the second highest rank in the RAF as well as being ADC to King George VI and Queen Elizabeth.
He is remembered by a fellow student at university as being," a jolly, energetic,agreeable and friendly soul, very popular with everyone".
A navigator in 102 Squadron says of him," he had a knack of making one feel important, even if you weren,t".
A serving Officer in Rhodesia described him as "a warm approachable man who generated great respect and steadfast loyalty from those served under him".
The information here is only a potted history of his life. It has been gleaned from an excellent book compiled by Squadron Leader Dennis Sawden and published by Yorkshire Air Museum in 1998.This recommended read gives a detailed and interesting history of all of his life.
George Augustus Walker was born in Laurel Cottage, West Garforth on 24th August 1912.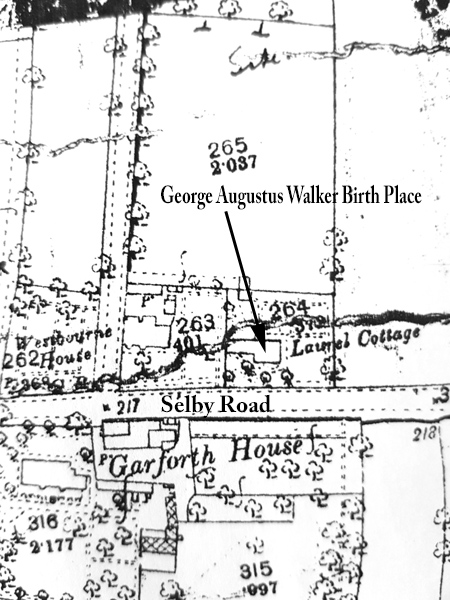 His father was George Henry Walker a consulting engineer working for Yorkshire Copper. His mother was Josephine Robertson Rolph, a Canadian born in St John , New Brunswick. She was a member of the Gus Rolph Shipping Family and had come to Great Britain as a teenager when her father Augustus P. Rolph moved to Glasgow to manage the Rolph Clark Shipping Co. Gus had an elder brother, Jim, who was born in 1909.
George Augustus became known to the family as Gus and moved to Claremont where the family were still living when Josephine died on 10th January 1954.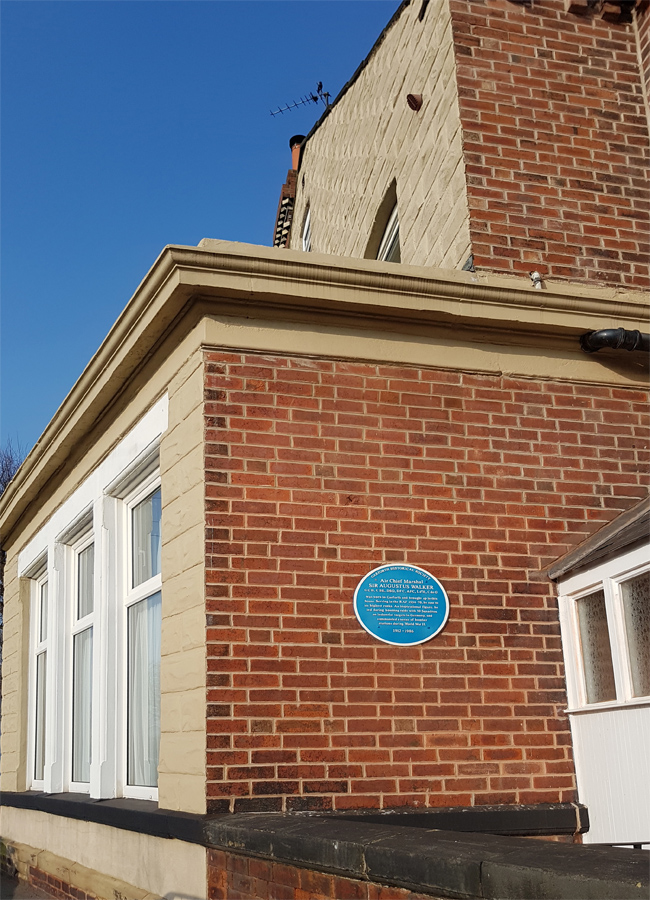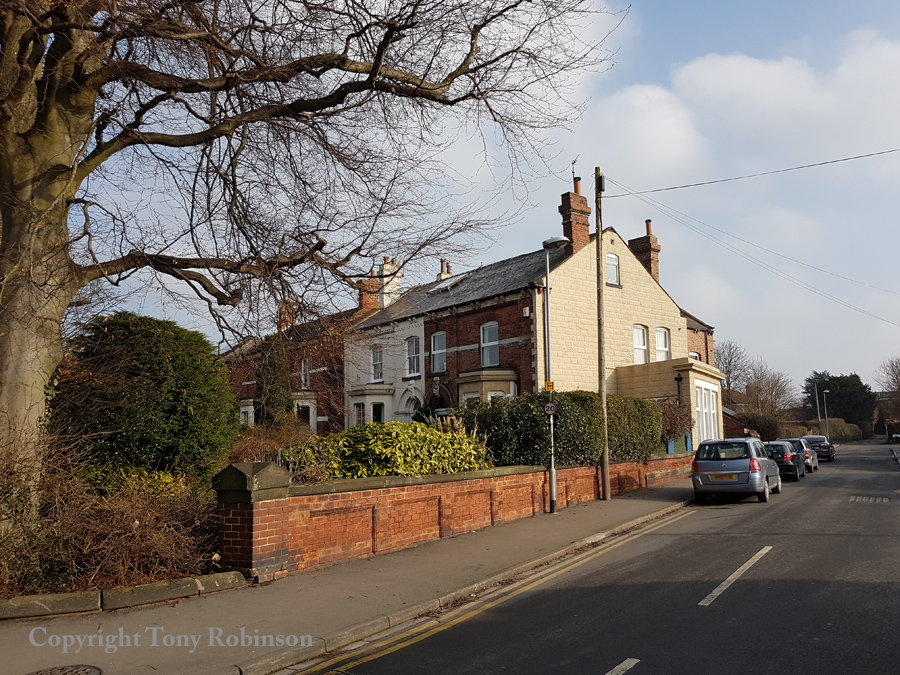 Claremont, Lidgett Lane, Garforth – Photo Feb. 2017
After attending a private school in Garforth run by Miss Hammond, Gus went on to a prep school in Seascale, Cumbria and then to St Bees Private School . It was here that he first showed his skill as a rugby player as well as cricket,tennis and golf.
On leaving St Bees Gus gained a scholarship to St Catherine's, Cambridge which he attended from October 1931 to summer of 1934 when he was awarded an Honours Degree in Sciences.
During his time at university his aptitude for sport really developed and he soon gained a place in the college team. At this time he was also playing for Headingley and had many complimentary newspaper reports on his games. He did play for the University although he didn't gain a blue, being understudy to Welsh international Cliff Jones.However Gus did reach the pinnacle of his rugby career when in January and February of 1939 he played Fly Half for England against Wales which they won 3 -0 and Ireland where they lost 0-5. In the same year he had also captained the RAF Team against the Royal Navy.
RAF CAREER
Gus's 40 year distinguished RAF career began on 29th September 1934 as a Pilot Officer at No 5 Flying Training School at Sealand, Cheshire.Gus was promoted to Flying Officer on 29th March 1935.
His first posting was on 1st September 1935 to No 99 Bomber Squadron in Mildenhall, Suffolk.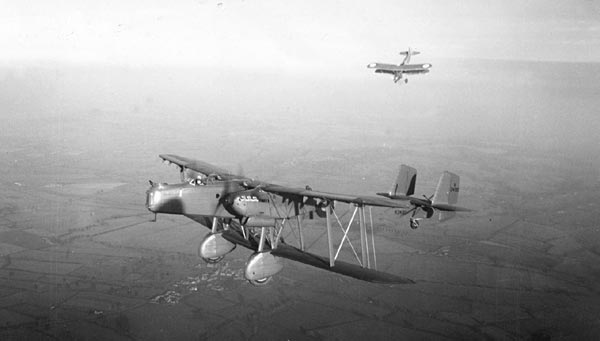 On 29th March 1937 whilst attending Air Armaments Course he was promoted to Flight Lieutenant
From July 1937 he attended No 5 Armaments School in Penrhos North Wales.It was here that he had a flying accident.Whilst taking off in a laden aircraft towing target drogues his plane hit a ridge and crashed.He spent time in hospital having his badly smashed nose reconstructed.
From 1st of September 1938 he was appointed to a staff position at the Director Generals Research and Development Department. On 1st April 1939 he was promoted to Squadron Leader.
With the outbreak of war Gus pestered his CO Air Vice Marshall Tedder for a return to flying duties. He attended flying refresher training schools at Upper Heyford and Finningley
Gus, now Wing Commander, assumed his first command of No 50 Squad. at Lindholme on 5th November 1940 at the age of 28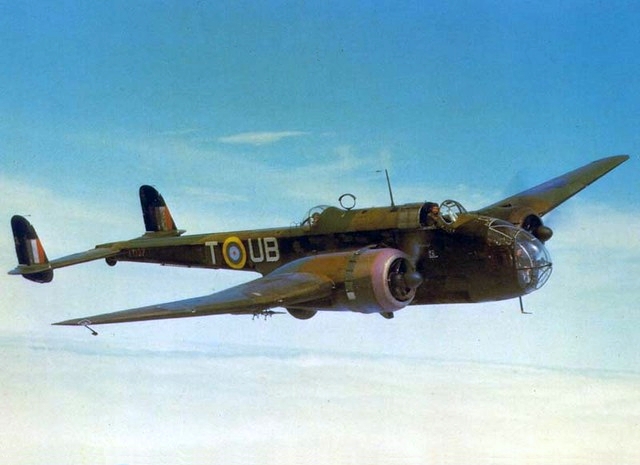 On 19th July 1941 No 50 Squadron moved to Swinderby from where Gus flew several sorties. As a result of his efforts on a raid on the Buna Rubber Factory in Huls near Krefeld Gus was awarded the DFC (Distinguished Flying Cross)
Group Captain Walker took command of 144 Squadron at RAF Luffenham in Rutland on 22nd October 1941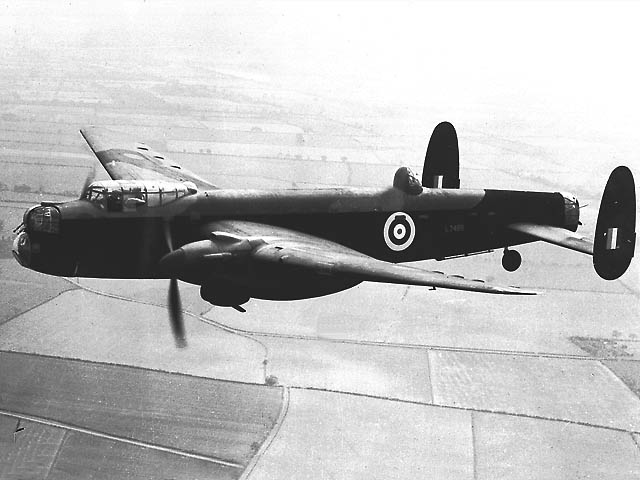 On 20 April 1942 Group Captain Gus Walker took command of RAF Syerston near Newark on Trent.
Gus married Dorothy Brenda Willcox, the widow of his good friend Peter Willcox, on 5th September 1942 in St Marks,North Audley Street, London. Peter was lost on one of the early 1000 bomber raids on Cologne. Gus and Brenda went on to have two children, Raymond and Jane.
Later in the year on 8th December 1942 Gus was badly injured when a bomb exploded on a Lancaster bomber which caught fire on the airfield. He was taken to hospital where his right arm was amputated above the right elbow. He promised his CO to return to duty within 2 months.
On 25th March 1943 Air Commodore GA Walker took up his appointment as AOC 42 Base Pocklington, just over three months after the accident. He spent two years there and on 1st January 1945 he was awarded the Order of the British Empire.
12th February 1945 he became Senior Air Staff Officer (SASO) at HQ No 4 Group Bomber Command at Heslington Hall near York. This was HQ for 11 Airfields and three training bases.
11th May 1946 – now Air Commodore- he took up a desk job at the Air Ministry as Deputy Director General of Operational Training. Like many other wartime officers Gus reverted in rank and from 1st November 1947 relinquished what was termed "War Substantive Rank", once again becoming Group Captain. He regained the Air Commodore Rank in 1954.
21st February 1948 he became SASO on the Training Wing in Rhodesia.
On 28th Mar 1949 he was appointed ADC to King George VI
28th August 1950 to March 1951 attended Joint Services Staff College at Latimer, Buckinghamshire.
19th March 1951 Group Captain Walker took command of RAF Coningsby near Sleaford, Lincolnshire which was the home of 4 squadrons equipped with Washington Bombers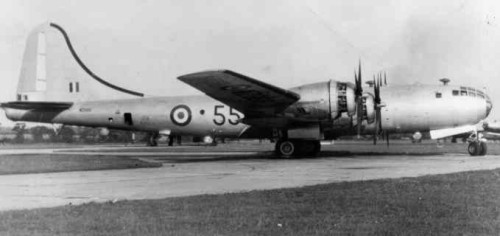 Jan to Dec 1953 Attended a one Year Training course for Group Captains and above who were destined for promotion to higher ranks.
1st February 1954 Air Commodore Walker took command of RAF Flying College Manby. One of the aircraft being used at Manby was the Canbera.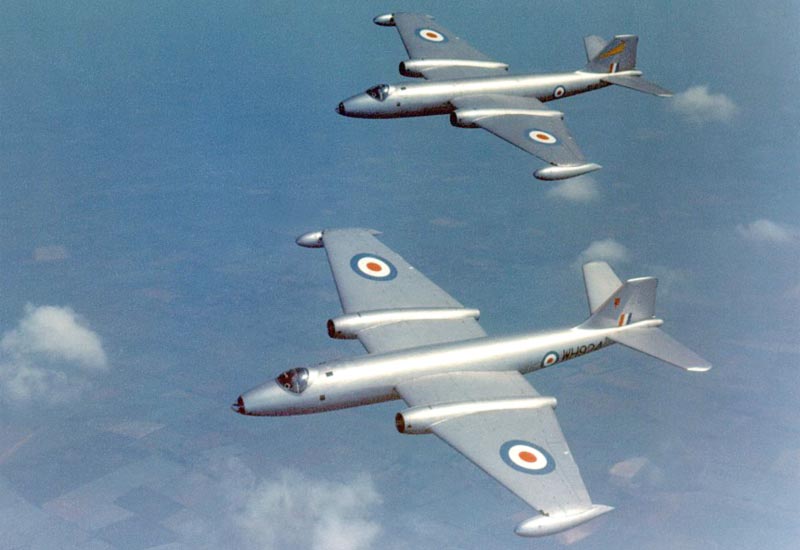 Through out all his time as Station Commander at various locations and indeed his desk jobs, Gus kept up his flying time on many different types of aircraft. At no time did he allow his disability to restrict his piloting aircraft. A special fitting would be clamped to the control column to allow him to fly but it was still very difficult for him to reach the other controls. He also managed to continue playing golf.

From 3rd October 1956 Group Captain Walker was promoted to Air Vice Marshal to take up command of No 1 Group Bomber Command based at Bawtry near Doncaster. It was at this time that the new delta wing Vulcan Bomber was being introduced.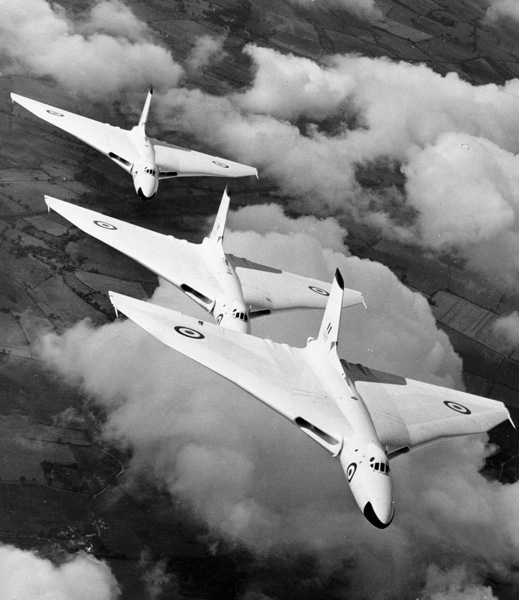 During his time at Bawtry from October 1956 to June 1959 AVM Gus flew 8 different types of aircraft including Vulcans, Canberas and Meteors for a total of 579 flying hours.
On Her Majesty's Birthday Honours list in June 1959 he was appointed Companion of the Order of the Bath (CB)
Chief Information Officer at Air Ministry – Air Vice-Marshal G A Walker took up this position on 15th June 1959 based in Whitehall, London
Air Officer Commanding-in-Chief Flying Training Command. From 24th September 1961 based in Shinfield Park, Reading
In the New Years Honours list of 1st January 1962 Air Marshal Walker was Knighted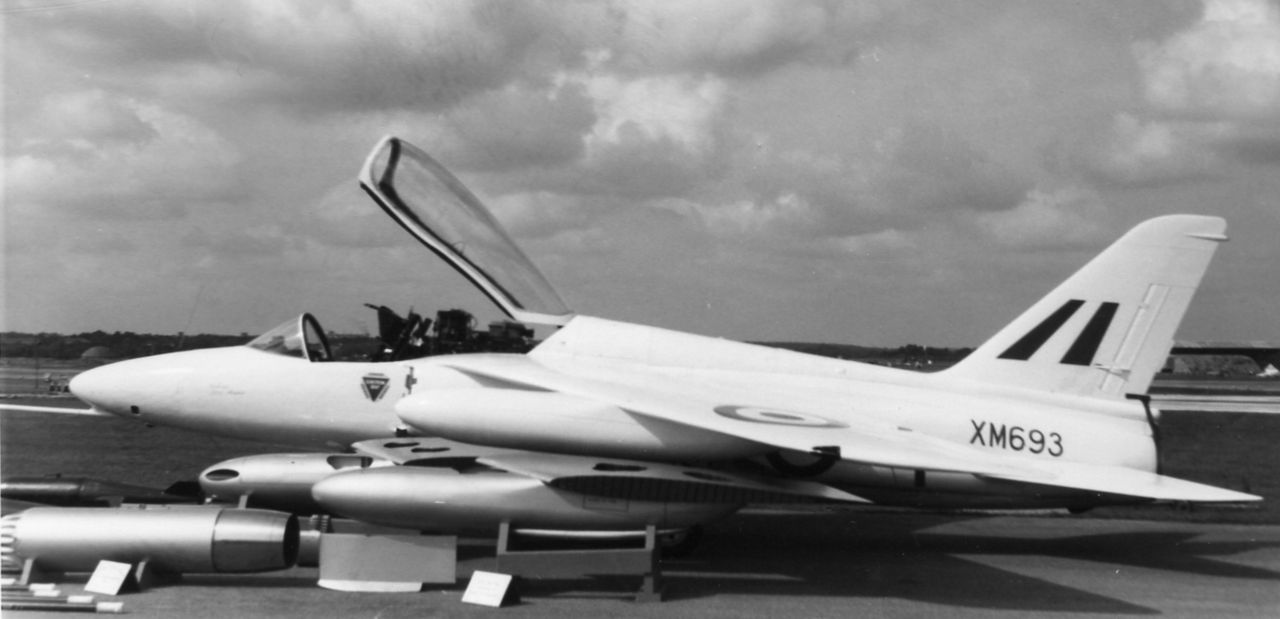 Inspector General of the Royal Air Force Air Marshal Sir Augustus Walker took up this position on 15th August 1964 in a small office at 133 High Holborn detached from the large ministry buildings.
Deputy Commander-in-Chief Allied Forces Central Europe. For this appointment he was promoted to rank of Air Chief Marshal and took up the command 1st Mar. 1967
1st January 1969 Sir Gus was appointed Knight Grand Cross of the Order of the Bath.
Air Chief Marshal Augustus Walker retired from the RAF in 1970 he did however maintain a number of voluntary positions including Chairman and President of RAF Association, Chairman of National Sporting Club as well as having been President of The Rugby Football Union 1965-66. He was a keen supporter and Patron of the Yorkshire Air Museum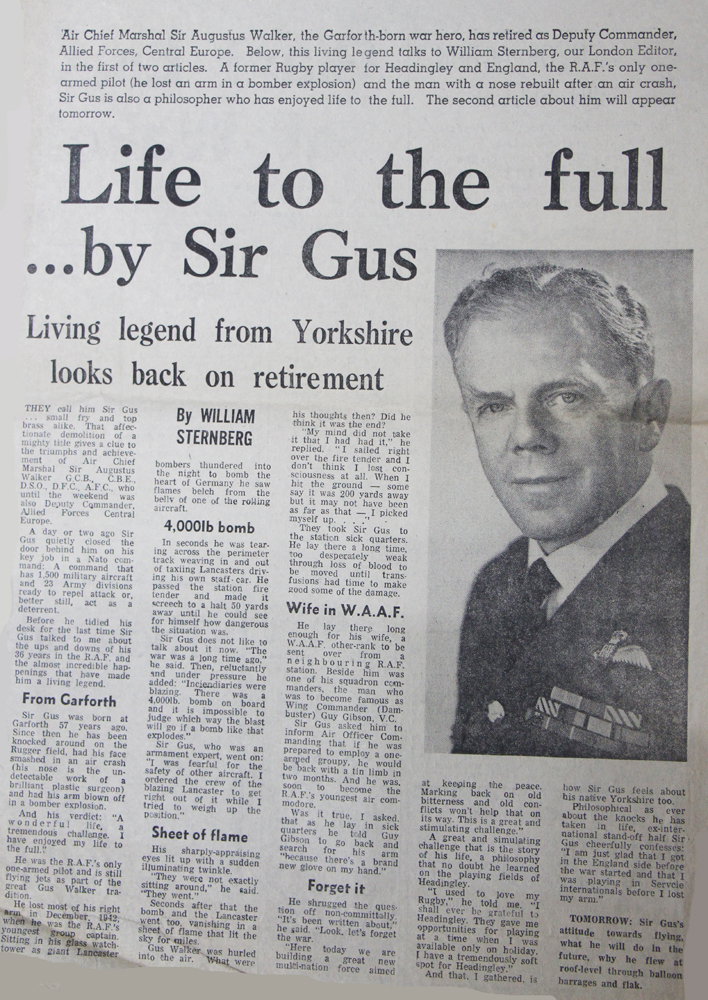 Gus died 11th December 1986 aged 74. He is buried at Deepdale, Brancaster, Norfolk.
This link also gives details of his career Air Chief Marshal Sir Augustus Walker